Edit and Update in Blazor
In this video we will discuss how to perform Edit and Update operation in Blazor.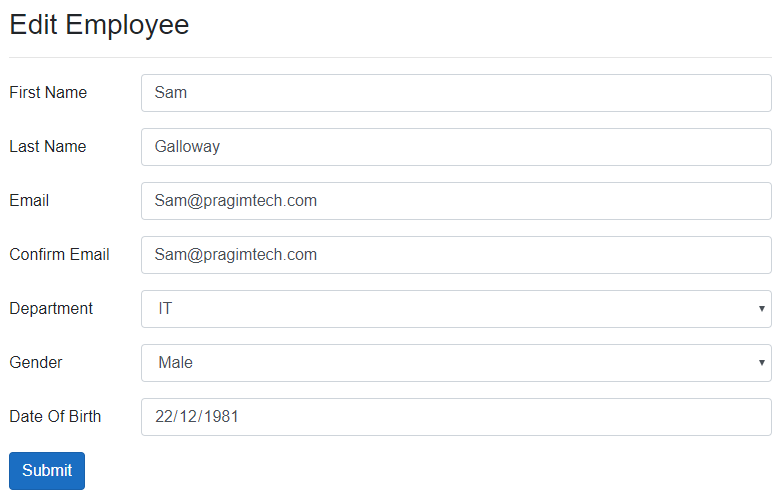 EditEmployee Component Class
In HandleValidSubmit() method, EmployeeService.UpdateEmployee method updates the employee data in the underlying database by calling REST API.
NavigationManager.NavigateTo("/") method redirects the user to the list page after a successful update.
using AutoMapper;
using EmployeeManagement.Models;
using EmployeeManagement.Web.Models;
using EmployeeManagement.Web.Services;
using Microsoft.AspNetCore.Components;
using System.Collections.Generic;
using System.Linq;
using System.Threading.Tasks;

namespace EmployeeManagement.Web.Pages
{
    public class EditEmployeeBase : ComponentBase
    {
        [Inject]
        public IEmployeeService EmployeeService { get; set; }

        private Employee Employee { get; set; } = new Employee();

        public EditEmployeeModel EditEmployeeModel { get; set; } = new EditEmployeeModel();

        [Inject]
        public IDepartmentService DepartmentService { get; set; }

        public List<Department> Departments { get; set; } = new List<Department>();

        [Parameter]
        public string Id { get; set; }
        
        [Inject]
        public IMapper Mapper { get; set; }

        [Inject]
        public NavigationManager NavigationManager { get; set; }

        protected async override Task OnInitializedAsync()
        {
            Employee = await EmployeeService.GetEmployee(int.Parse(Id));
            Departments = (await DepartmentService.GetDepartments()).ToList();
            Mapper.Map(Employee, EditEmployeeModel);
        }

        protected async Task HandleValidSubmit()
        {
            Mapper.Map(EditEmployeeModel, Employee);
            var result = await EmployeeService.UpdateEmployee(Employee);
            if (result != null)
            {
                NavigationManager.NavigateTo("/");
            }
        }
    }
}
EditEmployee Component - Blazor EditForm
@page "/editemployee/{id}"

@inherits EditEmployeeBase

<EditForm Model="@EditEmployeeModel" OnValidSubmit="HandleValidSubmit">
    <ObjectGraphDataAnnotationsValidator />
    <h3>Edit Employee</h3>
    <hr />
    <ValidationSummary />
    <div class="form-group row">
        <label for="firstName" class="col-sm-2 col-form-label">
            First Name
        </label>
        <div class="col-sm-10">
            <InputText id="firstName" class="form-control" placeholder="First Name"
                       @bind-Value="EditEmployeeModel.FirstName" />
            <ValidationMessage For="@(() => EditEmployeeModel.FirstName)" />
        </div>
    </div>
    <div class="form-group row">
        <label for="lastName" class="col-sm-2 col-form-label">
            Last Name
        </label>
        <div class="col-sm-10">
            <InputText id="lastName" class="form-control" placeholder="Last Name"
                       @bind-Value="EditEmployeeModel.LastName" />
            <ValidationMessage For="@(() => EditEmployeeModel.LastName)" />
        </div>
    </div>
    <div class="form-group row">
        <label for="email" class="col-sm-2 col-form-label">
            Email
        </label>
        <div class="col-sm-10">
            <InputText id="email" class="form-control" placeholder="Email"
                       @bind-Value="EditEmployeeModel.Email" />
            <ValidationMessage For="@(() => EditEmployeeModel.Email)" />
        </div>
    </div>
    <div class="form-group row">
        <label for="confirmEmail" class="col-sm-2 col-form-label">
            Confirm Email
        </label>
        <div class="col-sm-10">
            <InputText id="confirmEmail" class="form-control"
                       @bind-Value="EditEmployeeModel.ConfirmEmail" />
            <ValidationMessage For="@(() => EditEmployeeModel.ConfirmEmail)" />
        </div>
    </div>
    <div class="form-group row">
        <label for="department" class="col-sm-2 col-form-label">
            Department
        </label>
        <div class="col-sm-10">
            <CustomInputSelect @bind-Value="EditEmployeeModel.DepartmentId" class="form-control">
                @foreach (var dept in Departments)
                {
                    <option value="@dept.DepartmentId">@dept.DepartmentName</option>
                }
            </CustomInputSelect>
        </div>
    </div>
    <div class="form-group row">
        <label for="gender" class="col-sm-2 col-form-label">
            Gender
        </label>
        <div class="col-sm-10">
            <InputSelect @bind-Value="EditEmployeeModel.Gender" class="form-control">
                @foreach (var gender in Enum.GetValues(typeof(Gender)))
                {
                    <option value="@gender">@gender</option>
                }
            </InputSelect>
        </div>
    </div>
    <div class="form-group row">
        <label for="dateOfBirth" class="col-sm-2 col-form-label">
            Date Of Birth
        </label>
        <div class="col-sm-10">
            <InputDate @bind-Value="EditEmployeeModel.DateOfBrith" class="form-control" />
        </div>
    </div>
    @*<div class="form-group row">
            Updating Department Name from this page does not make sense
            This is only here to demonstrate complex model validation
            <label for="deptName" class="col-sm-2 col-form-label">
                Department Name
            </label>
            <div id="deptName" class="col-sm-10">
                <InputText @bind-Value="EditEmployeeModel.Department.DepartmentName"
                           class="form-control" />
                <ValidationMessage For="@(() => EditEmployeeModel.Department.DepartmentName)" />
            </div>
        </div>*@
    <button class="btn btn-primary" type="submit">Submit</button>
</EditForm>
IEmployeeService
public interface IEmployeeService
{
    Task<IEnumerable<Employee>> GetEmployees();
    Task<Employee> GetEmployee(int id);
    Task<Employee> UpdateEmployee(Employee updatedEmployee);
}
EmployeeService
using EmployeeManagement.Models;
using Microsoft.AspNetCore.Components;
using System.Collections.Generic;
using System.Net.Http;
using System.Threading.Tasks;

namespace EmployeeManagement.Web.Services
{
    public class EmployeeService : IEmployeeService
    {
        private readonly HttpClient httpClient;

        public EmployeeService(HttpClient httpClient)
        {
            this.httpClient = httpClient;
        }

        public async Task<Employee> GetEmployee(int id)
        {
            return await httpClient.GetJsonAsync<Employee>($"api/employees/{id}");
        }

        public async Task<IEnumerable<Employee>> GetEmployees()
        {
            return await httpClient.GetJsonAsync<Employee[]>("api/employees");
        }

        public async Task<Employee> UpdateEmployee(Employee updatedEmployee)
        {
            return await httpClient.PutJsonAsync<Employee>("api/employees", updatedEmployee);
        }
    }
}
REST API UpdateEmployee Method
public async Task<ActionResult<Employee>> UpdateEmployee(Employee employee)
{
    try
    {
        var employeeToUpdate = await employeeRepository.GetEmployee(id);

        if(employeeToUpdate == null)
        {
            return NotFound($"Employee with Id = {id} not found");
        }

        return await employeeRepository.UpdateEmployee(employee);
    }
    catch (Exception)
    {
        return StatusCode(StatusCodes.Status500InternalServerError,
            "Error updating data");
    }
}